Investis is delighted to announce the launch of "Audience Insight", a unique service that allows organisations to monitor, understand and make decisions about how to engage with their digital audiences, providing time-poor professionals with the insight they require to act in today's ever-changing digital landscape.
Targeted at corporate communications , investor relations and marketing departments, the service, which is available for existing clients and for new clients as a standalone service, is accessible via desktop and app (available in Apple and Google stores).
Audience Insight provides three core areas of functionality:
Intelligence – Providing insight and alerting on which organisations are viewing your web content from our global database of 200k+ organisations and from which digital sources they are being attracted.
Analyse – Providing website and app performance metrics allowing benchmarking against similar sized companies and tracking for key events.
Listen – Social and media monitoring service which tracks company and keyword mentions and influencers, as well as social sentiment, from more than 200,000 sources including news outlets, blogs, forums, and Twitter.
The ever complicated digital landscape makes it harder and harder for website owners to monitor activity not only on their own website, but across the whole internet, with a 24/7 news cycle, and ever more sophisticated investor audiences using social channels and forums to communicate, and sometimes to manipulate share prices, Audience Insight is the answer to many of these challenges.
The Audience Insight app means a user can proactively monitor 24/7, all at their fingertips. Managing reputation, monitoring shareholder activism, tracking an event or news, and making decisions about how to improve their digital communications has never been easier.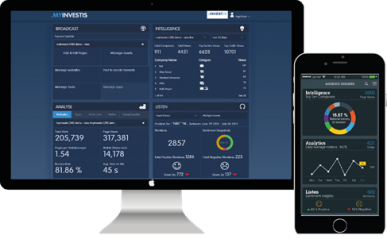 Helen James, CEO of Investis, commented: "We are thrilled to launch Audience Insight, a service that provides critical data to assist our clients' decision making and communications. It further adds to the suite of data and intelligence that our clients already receive through myInvestis and marks us out as the leader in providing corporate intelligence. It is also testament of our commitment to develop further innovative services for our clients which we continue to invest heavily in, alongside the ongoing development of existing products and services which our clients continue to benefit from."
If you would like to find out more information about Audience Insight, please contact us at enquiries@investis.com.
About Investis.
Investis Ltd. is an international digital corporate communications and investor relations company which works with approximately 1,900 clients from offices in six countries. The companies it serves include more than 70% of the constituents of the FTSE 100 and more than 150 US clients. Founded in 2000, Investis helps clients manage their corporate communications and investor relations through corporate websites, IR webhosting, social media, apps & mobile, video and webcasting, website tools and online reporting.