The depth and quality of sustainability and corporate social responsibility (CSR) reporting on corporate websites is appearing to be declining, according to the latest Investis IQ Rankings, released today. The IQ Rankings benchmark corporate websites and companies' use of digital media, scoring them out of 100 for aspects including usability, corporate governance, CSR, investor relations (IR), use of mobile and use of social media.
The average CSR score globally has fallen by 2% on six months ago, and a fall was recorded in the majority of the CSR criteria we measure. Of the indices scored this quarter, the FTSE 100 was also down 4% on six months ago, although the German MDAX and the Swiss SMI Expanded recorded modest growth while the Austrian ATX was up 6% and the Russian MICEX/RTS was up by nearly 9%.
However, further analysis shows that the fall in average scores was not caused by companies abandoning their commitment to CSR but because of the poor performance of many newly listed companies, as well as many companies scored for the first time in the US NASDAQ 100. Equity / Non-equity Investment Instruments companies as well as many companies in the Real Estate and Financial Services sector are also dragging down overall averages.
Responding to the findings, Marcus Fergusson, Research Director at Investis, said:
"Understandably, newly listed companies may not have a great deal of CSR content to communicate. Nevertheless, the latest findings do suggest that these companies need to work harder to catch up with their more stablished peers. Of more concern is the disparity between many investment companies and the wider corporate world in terms of sustainability reporting, especially at a time when many companies are under greater public scrutiny than ever before.
It is encouraging that the MICEX/RTS made significant improvements to their online sustainability reporting but the index, along with the Norwegian OBX, the FTSE 100, the MDAX and the US NASDAQ 100 are still behind the global average."
Index Overview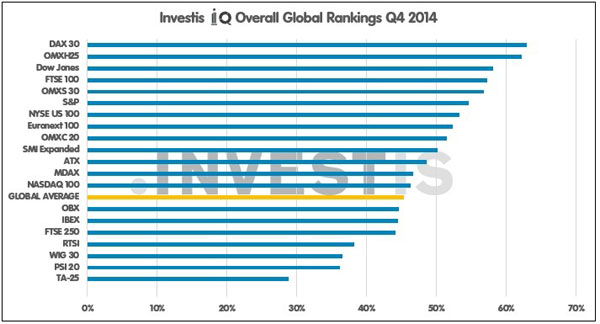 The FTSE 100 (average overall 44%) saw the least growth. Scores increased dramatically for Mobile (half of all companies now have either a responsive website or a dedicated mobile solution – up from 36% six months ago, with 40% of the index opting for responsive design). However, growth was sluggish in other areas and declined in IR, CSR and Content overall.
The Norwegian OBX (45%) was scored for the first time – and scores lower than every other Scandinavian index in every category. They are below global averages for every category, except for IR, Corporate Governance, Multimedia and Content – whereas every other Scandinavian index scores above global averages in every category. Their worst showing is for CSR, where only the Russian MICEX/RTS scores lower.
Despite the Russian MICEX/RTS (38%) improving in every category (most notably in social media, up 26.4%), the index still lags behind the other indices scored this quarter overall and in every other category except for About Us content and Corporate Governance where they score higher than the global average.
The Swiss SMI Expanded (50%) was the most improved index (up 4.1%) but all other indices improved by more than 2% - with the exception of the FTSE 100, which saw more modest growth of just 0.6%.
The German MDAX (47%) is now pulling away from the FTSE 100 and is above the global average – but it still has work to do in terms of Mobile, Social Media and CSR. Historically, CSR has always been something of a German anomaly, tending to be the MDAX's weakest link, while the DAX 30 generally tops the league here. For the first time, the MDAX outperforms the FTSE 100 in this category, as well as bettering the OBX and the MICEX/RTS.
The Austrian ATX (49%) impresses with About Us content but its use of social media is below the global average, despite a 22.7% rise in scores here. No category saw a decline in score and the index is chasing hot on the heels of the SMI Expanded.
CSR Findings
The most dramatic shift was a 4.5% drop in the number of companies providing a statement of their CSR principles and policies. There was also a 3% fall in the number of companies offering a press release area dedicated to CSR. However, this was mitigated by a 9% rise in the number of companies offering a dedicated press release search, which allows visitors to locate CSR-related press releases.
There was also a 3% fall in the number of companies providing a senior management message or introduction to their CSR approach. Less than a third of companies provide this useful indicator of C-suite buy-in.
Nearly a third of companies do not have a dedicated CSR section, down slightly on six months ago. The MDAX is the worst offender here – just 56% of the index have a dedicated CSR section.
However, despite the lack of dedicated CSR sections, 86% of companies (down from 88%) do at least provide detail on what areas are covered by their CSR initiatives: the content is there but it may be difficult to find in some cases.
Another significant omission is in offering independent assessment of CSR activities. Just 54% of companies link to external sites related to their activities while only 59% of companies provide a CSR rating from an independent body.
We score each index once every six months: this quarter Investis scored the FTSE 100; the German MDAX; the Swiss SMI Expanded; the Austrian ATX; the Russian MICEX/RTS; and the Norwegian OBX.
The IQ survey was conducted in the fourth quarter of 2014 based on the current index constituents at the beginning of October. The IQ Ranking is the most comprehensive and authoritative of its kind, assessing nearly 200 criteria in measuring website quality and performance. Investis now scores more than 1,200 companies every six months, offering a unique view on the evolution of corporate websites for its clients and partners.
For more information on the IQ benchmarking service, please contact our Research Director, Marcus Fergusson, on marcus.fergusson@investis.com, call +44 (0) 20 7038 9000 or visit www.investis.com.
Top 20 companies scored this quarter:
| | | | | |
| --- | --- | --- | --- | --- |
| Company | Index | Overall | Index Rank | Change in Ranking |
| Nestlé | SMI Expanded | 76 | 1 | 0 |
| Atkins | FTSE 100 | 72 | 1 | +1 |
| Roche Holding | SMI Expanded | 70 | 2 | +4 |
| ABB Ltd | SMI Expanded | 70 | 3 | -1 |
| Halma | FTSE 100 | 69 | 2 | -1 |
| UBS | SMI Expanded | 69 | 4 | -1 |
| Credit Suisse | SMI Expanded | 69 | 5 | -1 |
| Swisscom | SMI Expanded | 68 | 6 | -1 |
| Statoil | OBX | 67 | 1 | N/A |
| Balfour Beatty | FTSE 100 | 67 | 3 | 0 |
| Amec Foster Wheeler | FTSE 100 | 66 | 4 | +1 |
| Erste Group | ATX | 66 | 1 | 0 |
| Zurich Insurance | SMI Expanded | 65 | 7 | 0 |
| Go-Ahead Group | FTSE 100 | 65 | 5 | -1 |
| Rexam | FTSE 100 | 64 | 6 | N/A |
| Catlin | FTSE 100 | 64 | 7 | -1 |
| Airbus Group | MDAX | 64 | 1 | +1 |
| Stagecoach Group | FTSE 100 | 63 | 8 | +1 |
| Bilfinger | MDAX | 62 | 2 | -1 |
| Georg Fischer | SMI Expanded | 62 | 8 | 0 |
About Investis
Investis Ltd., is an international digital corporate communications and investor relations company which works with approximately 1,900 clients from offices in six countries. The companies it serves include more than 70% of the constituents of the UK 100 and more than 150 US clients. Founded in 2000, Investis helps clients manage their corporate communications and investor relations through corporate websites, IR webhosting, social media, apps & mobile, video and webcasting, website tools and online reporting.